Waterside Boat Sales Plymouth
Lynher Building Queen Anne Battery
Plymouth, Devon, GB, PL4 0LP
Tel:01752 254322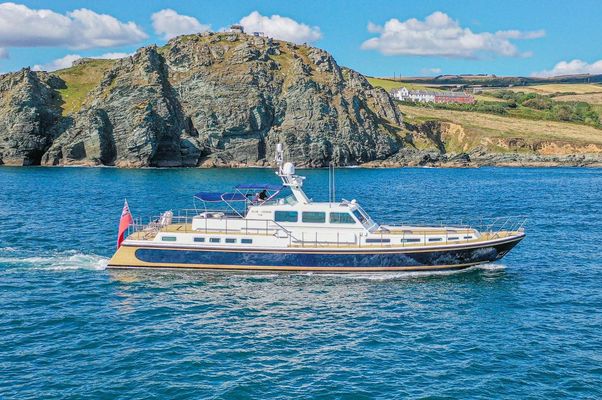 1996 Nelson 80
Salcombe, Devon
Length
79'10 ft / 24.34 m
We are pleased to bring to the market the one and only Blue Legend. An exceptional example of the Nelson marque and a true one of a kind at 80 feet.
She would suit a couple looking to expedition cruise with a crew, or equally a wonderful opportunity for a sea faring family to have a cruising holiday home. 
The current owner/skipper has extensively cruised 12,000 miles in the UK and Mediterranean over the last four years with his family and friends. She has proven to be an excellent family boat, often with children as young as 2 on board.
Recently refurbished and fully equipped, she is ready for her new owners to cruise the world!
Specifications
Length Overall
79'10 ft / 24.34 m
Total Engine Power
2,000 hp
Holding Tank Cap.
1,700 L
Engine 1 Specifications
Propeller Type:
4 Blade, Bronze
Engine 2 Specifications
Propeller Type:
4 Blade, Bronze
Engine Location:
Starboard
Blue Legend
Blue Legend is the largest Nelson ever built and is the only one of her kind, a true Original! She was built in 1996 as a 69-foot Nelson in the UK by Richardsons under the penmanship of TT Boat Designs. She was meticulously maintained with a full-time skipper and crew throughout her first ownership and in 2006 she was substantially rebuilt in Palma de Mallorca (still under the auspices of TT Boat Designs) giving her the extended transom and making her up to 80 feet whilst maintaining her Lloyds 100 A1 classification. 
Originally designed as pilot boats for any weather, Nelsons are renowned for their sea keeping ability. Blue Legend has this capability together with an attractive and well-conceived interior and deck layout that makes for a boat at home Mediterranean cruising, crossing the Bay of Biscay, or visiting the tip of Scotland.
She is finished below in American white oak veneer throughout, and her accommodation can only be described as exceptional. She boasts an owner's stateroom forward with walk-in wardrobe and ensuite bathroom that does indeed have a bath. Two further twin guest cabins with ensuite facilities, and two single cabins aft with a large, shared heads makes her a versatile home afloat. Her galley adds to this, both large and functional, it is perfectly positioned near the engine room for stability at sea.
Her external deck layout is superb. With two u-shaped sofas around dining tables, she can comfortably sit ten people to dinner. Her aft deck complete with steamer chairs is a sunbather's paradise at anchor.
When it comes to passage making she is unrivalled. Two main control positions and a further three for docking make piloting her a joy. She is beautifully balanced and incredibly easy to helm with twin engines and a hydraulic bow thruster. Her engine room is as expected on a boat designed to go to sea, there is easy access to both engines and generators making engine checks easy, and more importantly, safe.
Undoubtedly one her most memorable feature is her transom garage. The whole transom hydraulically lifts to reveal a large area to stow her tender and toys. Including the paddle boards, canoe, and the all-important Seabob.
She also boasts a fully retractable hydraulic passerelle for stern-to berthing.
Blue Legend is MCA Coded MGN280 Cat 2 for the carriage of 12 passengers and is registered as a Commercial Yacht. Coding was certificated in 2018 and the vessel has just completed her midterm survey in August 2021.
She has been fortunate with her current owners who have put her through a major refurbishment programme to bring her up to modern standards in both appearance and safety at a cost in excess of £400,000. This includes:
Replacement of all carpets, floor coverings, curtains, saloon blinds along with an overhaul of all port lights.
Replacement of all bedding and cabin upholstery.
Recovering in Sunbrella of all external cushions and helm seats.
Replacement of kitchen surfaces and most appliances with the addition of a Quooker tap (cold, warm, boiling, and sparkling water).
Major overhaul of the plumbing arrangements with the addition of Fuel Metering and multiple fuel suction options.
Main Engines and Generators fully serviced at 250 hour intervals.
Navigation systems completely renewed with latest Simrad equipment.
Vessel safety specifications brought up to MCA Coding standard for Cat 2.
Power systems upgraded in relation to monitoring, charging and inverting. Replacement of the majority of batteries.
Replacement of starboard windlass and three capstans fore and aft.
New tender and engine.
Improved communication, WIFI, 4G, Iridium, and television systems.
Upgraded Fire and Lifesaving equipment to meet latest requirements.]
Refurbishment of teak decks and rubbing strakes
Hull anti-foul removed and epoxy barrier renewed
Props and rudders polished and coated in Prop-speed
Blue Legend comes with extensive documentation and instructions for equipment operation, large selection of charts and chart books for Southwest England, Western Atlantic and Eastern Mediterranean.
Construction
RCD Status:
The yacht conforms with the essential safety requirements of Directive 94/25EC (Recreational Craft Directive) and is categorised A – "Ocean"
Hull, Deck & Superstructure Construction:
GRP hull, deck and superstructure.
Teak laid deck, on side decks, aft deck / cockpit and coach roof top.
Machinery:
Engine & Gearboxes:
2 x Caterpillar 3412, 1000 hp. diesel engines with ZF gearboxes, Aquadrives, shaft drive, deep-sea seals, with spare units in line.
Racor fuel filters.
Duplicated pumps and switch systems.
Halyard exhaust system, with underwater outlets, custom designed to minimise noise.
Silicon Marine Exhaust temperature monitoring alarm system (2018).
Trolling valves. In gear 7 knots and 2/3 knots in the trolling valves.
Air and fuel shut off system.
Wheelhouse superstructure has a removable roof panel for engine removal.
Maintenance & Performance:
Cruising speed:  Fast cruise at 16 knots, Economy cruise for maximum range 10.5 knots
Maximum speed: 22 knots.
Main Engine hours: 6th Sept 2021 – Port 2,969, S 2,954.
Last service for both engines 21st August 2021
Propulsion & Steering:
2 x 4-bladed propellers.
Lewmar Hydraulic Bow Thruster, with controls by each helm (inside and out) powered via hydraulic take off on the port engine.
5 x Steering positions in total - with – Hydraulic wheel steering at 2 positions, (interior port side saloon and exterior on starboard bridge).
Helm controls port and starboard of aft deck and at raised position on Bridge port side.
Hydraulic steering gear and rams overhauled in 2018.
Two steering motors – 24v and 240v AC.
Electrical Systems
Voltage Systems:
12 v DC, 24 v DC, and 220 v AC.
Battery Banks:
12 x 12v 105 Amp sealed batteries  for services (2020/21).
2 x 12v 105 Amp sealed batteries for Electronic equipment.
2 x 12v 105  Amp sealed batteries for Generator start (2021).
4 x 12v 250 Amp sealed batteries for Engine Start (2015).
2 x 12v 105 Amp sealed batteries for alarms, stereo and instruments.
Battery Chargers:
Victron Energy Skylla 24/100 for Service batteries (April 2021).
Mastervolt 24/75 for Engine Start batteries (March 2015).
Mastervolt Mass 12/25 charger for 12v supply batteries.
Generator:
2 x Onan, 16 kW Generators (with water separators to deaden noise), with controls at inside helm, starboard & port sides) and engine room.
Generator hours: 6th Sept 2021 – P 4,831, S 4,919.
Last Service: P 8th August 2021, S 24th July 2021.
Shore Power:
220v 64 Amp cable and adapters.
Other Electrical:
Victron Energy Phoenix Inverter 24/3000 (May 2021).
On-board Systems
On Board Systems:
Fresh Water & Water Heating System:
Pressurised electric water system with 24v and 220v AC pump packages
Watermaker:
Isomar reverse osmosis watermaker 250 litres/hour (55 gallons/hour) (2015) – 558 hours as at 20th September. Major Service April 2021.
Bilge Pumps:
Electrical bilge pumps – 1x Bow Thruster compartment, 3 x For'd Accommodation, 4 x Engine Room, 2 x Aft Accommodation.
Port Main Engine driven mechanical bilge pump (High Volume) suctions – For'd Accommodation, Engine Room for'd and aft, Aft Accommodation
Manual pump to Engine Room and Accommodation aft.
Air Conditioning:
Condaria reverse cycle air conditioning/heating, with outlets to each cabin.
Air Compressor
Airstream 50 cfm air compressor supplying Engine Room and garage.
Tankage
All tanks GRP.
All piping and plumbing replaced 2015.
Fuel:
3,000 litre (660 gallons) Long Range tank.
2,600 litre (572 gallons) Day tank.
1,400 litre (308 gallons) Forward tank.
3000 litre (660 gallons) each Port & Starboard Main tanks.
Total Fuel capacity 13,000 litres (2,860 gallons).
Maximum approximate range @ 10 Kts – 2,000 NM.
Fresh water:
For'd – 2 tanks of 750 litres & 600 litres – total 1,350 litres (297 gallons)
Grey Water Holding Tanks:
For'd - 1,400 litre (308 gallons) with overside pump out.
Aft - 200 litre (44 gallons) with overside pump out.
Black Water Holding Tanks.
For'd - 1,400 litre (308 gallons) with overside pump out or deck suction.
Aft – 300 litre (66 gallons) with pump out overside or to for'd tank.
Navigation Equipment
Wheelhouse:
Simrad NSO EVO2 dual processor navigation system (2018).
Simrad HALO Radar (2018).
Simrad AC70 commercial Autopilot (2018).
Simrad Precision One compass (2018).
Simrad GS25 GPS Antenna with Compass (2018).
Simrad S5100 Sonar with Airmar transducer (2020).
Simrad DST800 Depth Indicator with SW temperature sensor and boat speed wheel (2020).
Simrad 608 Wind direction and Speed sensor (2019).
Simrad RS40 DSC AIS VHF with Bluetooth remote on bridge (2021) with battery backup.
Simrad OP50 NSO Controller (2018).
Raymarine 700 AIS transmitting/receiving (2018).
Raymarine G Series radar (2015).
Furuno monitor at interior helm x 2 (2015).
Port Searchlight & controls (2020).
Echomax EM305 Radar Reflector (2018).
Simrad GoFree WIFI 1 Ethernet system.
Sannce CCTV system – Cameras - 3 deck, 1 Engine Room and 2 in bilges (2018/20).
Starboard Bridge:
Simrad HS40 Bluetooth Remote (2021).
Simrad QS80 Quickstick Autopilot Controller (2018).
Simrad OP50 NSO Controller (2019)
Simrad IS42 Digital display (2019)
Raymarine external Monitor.
Raytheon Ray 530 loudhailer.
Ritchie Binnacle Compass.
Garmin Silva 70UN Bearing Compass (2019).
St'd Searchlight & controls (2020).
Port Bridge:
Manual main engine controls
Simrad IS42 Digital Display (2021)
Office:
Electronic Equipment
Tank Monitoring Systems:
Schneider Magelis electric tank monitor system, which also monitors bilge pumps (2013).
Long Range and Day fuel tanks fitted Maretron Reed switch depth measuring devices interfaced into Simrad NSO (2019).
Maretron Main Engine fuel Metering system interfaced to Simrad NSO (2019).
Accurate fuel consumption and main tank content information is constantly displayed on Furuno monitors.
Cabin Electronics:
Internal telephone system.
Iridium GO satellite telephone/data unit (2018).
Sea Tel antenna for satellite television.
JVC cassette/radio/CD player fitted to Master, Saloon, Galley, and aft Guest cabin.
Speakers on aft deck from Saloon JVC player.
Navigation monitors fed to Master and forward Guest cabin.
Stereo amplifier in salon connected to flat screen TV
Flat Screen TV's fitted in Master, Saloon, Aft Guest cabin and Galley.
All TV's connected to satellite system using Freeview.
Master, Saloon and Aft Guest cabin TV's wired for internet streaming, currently Amazon, Netflix, Apple and Disney.
Internal WIFI powered by Digital Yacht 4G Connect with twin mast top aerials.
Further WIFI access point fitted in Master cabin.
Digital Yacht WL510 WIFI extender for use in Marinas.
Epsom ET-2756 printer fitted in office.
Domestic Equipment
General:
Blue Legend is sold fully equipped, including: - Crockery, cutlery, glassware, bedding, galley equipment, etc.
Galley:
Bosch Induction Hob.
Hotpoint convention oven with steam assist (2020).
Samsung Microwave Combi Oven (2021).
220v Fridgemaster fridge/freezer (2018).
Neff Dishwasher (2019).
Quooker Tap providing Boiling, Cold and Sparkling water (2018/19)
Electric fan extractor over cooker.
Other locations:
Three Isotherm fridges (office, aft deck and main saloon).
Vitrifrido Icemaker (2021).
Indesit washing machine and Indesit dryer (2019) (situated aft, by engine room door).
Heads/Showers:
Guest Cabins have en suite shower with Tecma Silent head (2016).
Master cabin has en suite with shower over bath and Tecma Silent head (2016).
Crew cabins share shower wet room with Tecma Silent head (2016/2020).
2 water immersion heaters (220v AC) - for'd and aft (2018).
Lighting:
LED lighting throughout.
Accommodations
Summary of Accommodation:
4 x Single berths in two Guest cabins
1 x Double berth in Master cabin.
Crew Quarters - 1 x single berths in 2 cabins.
Galley.
Study.
Engine room.
Generous main saloon and dining area.
Carpeting throughout excluding Galley & Engine Room.
Soft finish linoleum in Galley.
Curtains and blinds in cabins and study.
Overhead hatches with mosquito/black out screens.
Cream leather upholstery in saloon.
Sun blinds on saloon windows.
Stainless steel trim details to hand rails and other areas.
Headlining in Alcantara (replaced in main saloon 2015).
Description of layout from forwards:
Owner's cabin with centerline double.
Dressing table to starboard and 2-seater sofa to port.
Throughout the yacht the joinery is to a consistently high standard and is lined in American white oak with attractive detailing.
Aft of the owner's cabin is a lobby with heads to starboard with bath, basin, vanity unit and heads.
Aft to port is a guest cabin with 2 single berths, ample storage and separate heads compartment with separate shower and basin.
To starboard is an attractive study area with ample storage, day fridge and plentiful work surfaces.
Up steps to interior helm to port with full suite of instrumentation port and starboard and co-driver/navigators chair for 2 to starboard and with fridge and retractable drinks cabinet.
At this level aft is a U shaped dining area with extending table to port and 2 easy chairs to starboard with flat screen TV. There is access to the spacious external aft area from here.
Down steps to the aft section of the yacht with large guest cabin with twin berths, dressing table and heads compartment with separate shower and heads compartment.
Access to the engine room is through a watertight door in the lobby area. The engine room has standing head room.
To port you enter the galley which was completely refitted in 2019. A Corian counter runs the length of the large galley with a Corian stainless steel base sink (necessary for Quooker), hob, and cooker and extractor hood. Opposite is the fridge/freezer. Aft is a collapsible table that provides an additional work surface (if needed).
A corridor leads aft with the crew heads compartment which is a wet room with vanity unit and WC.
The corridor continues to 2 x single cabins with ample storage. The aft cabins are currently used for crew, but the joinery is of the same standard as found in the rest of the yacht and could be easily used for guests. There is sufficient room to fit pipe cots to turn both into twin cabins.
Deck Equipment
General:
Stainless steel guard rails around aft deck opening gate to gangway.
Stainless steel stanchions and guard wires.
Stainless steel handrails.
Stainless steel pulpit.
6 x Opening Lewmar hatches on foredeck, overhauled & new acrylic 2018.
3 x Opening Lewmar hatches on saloon coachroof, overhauled & new acrylic 2018.
4 x Opening Lewmar hatches on aft deck-under raised helm seats.
Superstructure and ring deck are teak laid. Sanded and treated in 2020.
Wide side decks with steps up to bridge helm position port and starboard with excellent vision and large seating area behind with tables and large u shaped seating port and starboard to accommodate at least 12 people.
Aft is a deck area for sunbathing with escape hatches for aft cabin, and with steps down to the aft deck with deck access to the Garage.
2 Steamer chairs (2019) and 4 Deck seats (2020).
Garage:
Hydraulic opening transom door /swimming platform with ladder to aft deck and a swim ladder. There is an electric motor which operates this system and the emergency steering is also situated in this compartment.
Electric winch to expedite tender recovery into Garage.
Hydraulic passerelle and opening transom – powered by independent power pack (Overhauled 2018).
Rollers to assist with retrieving dinghy.
Anchoring & Mooring Equipment:
2 x hydraulic Anchor windlass (1 new 2021) with chain stoppers.
2 x 'Pool' style anchors, stowed in anchor tubes.
Length of Anchor Chains - Port 75 metres, St'd 120 metres.
Twin anchor rollers and with digital chain read out (1 New 2021).
Seawater pressure-wash system for cable washing.
There are 2 x deck lockers for warps, fenders, etc.
Foredeck with access to anchor chain compartment.
Hydraulic bow thruster and windlasses – powered by PTO from port engine.
2 x Electric Lofrans capstans on foredeck (2020).
1 x Electric Lewmar capstan on aft deck
1 x Electric Lofrans capstan on aft deck. (2021).
Covers, Canvas & Cushions:
Bimini sun awnings over external helms and aft deck seating, with extension at aft deck with lighting
Covers for exterior seating/tables and flybridge helm controls.
All external seats fitted with cushions and new covers (2020).
Tender:
Zodiac CADET RIB ALU with UltraLight Aluminium Hull (2020).
Fitted with Suzuki DF20 electric start (2019).
Safety Equipment:
2 x Lifebuoys. 1 new lamp (2021).
1 x Survitec 12 man liferaft D.O.M. 2018. (Last  Service 9/2021).
14 Lifejackets. (8 new rigid 2021)(Inflatables last serviced 7/2021)
Grab Bag with flares (D.O.M. 4/2018)(Expire 4/2022).
ACR Global Fix Pro EPIRB (D.O.M. 9/2017)(Next service 4/2022).
Fire-fighting equipment:
Engine Room Fire Suppression system with manual control – HFC 227 (Last Service 7/21).
Smoke detectors in Study, Galley and Engine Room
2 x 'Rise in Temperature' sensors in Engine Room.
General Alarm activation points in Master cabin, Wheelhouse and Galley.
General and engine alarm Beacon in Engine Room.
Kidde Carbon Monoxide monitor in Engine Room.
10 Foam and 1 CO2 Fire Extinguishers. (Last service 7/21).
Video Links
Owners Website - https://bluelegend.org/
Video drone shots - https://www.youtube.com/watch?v=Bzww7oBz0OU
Full Speed clip - https://www.youtube.com/watch?v=8r7WwDMB4sg
Disclaimer
For a full, detailed specification with additional photographs and direct contact details for the listing office.
The Company offers the details of this vessel in good faith but cannot guarantee or warrant the accuracy of this information nor warrant the condition of the vessel. A buyer should instruct his agents, or his surveyors, to investigate such details as the buyer desires validated. This vessel is offered subject to prior sale, price change, or withdrawal without notice.
Unless otherwise stated on the specification sheet the following presumptions are made
Sail drive and shaft seals are more than 5 years of age
Gas hoses and regulators are over 5 years old
Standing rigging and sails are more than 10 years old
NOTE - Please ring our offices prior to visiting, as the boat may be unavailable for viewing or located at a different marina.
Additional Contact Information
We have personal experience of cruising this boat, call our Plymouth office on 01752 254322 and ask for Sam.